Mayflower Cousins, thank you for visiting this page. If you feel moved to contribute, we have many donation opportunities available here for your review.
If it is not possible for you to make a monetary contribution at this time, but would like to contribute, we need volunteers!
2020, 400th Year Anniversary - Help Spread Awareness About Our Ancestors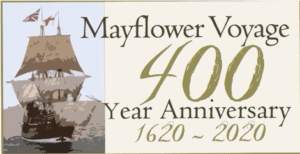 Next year, 2020 will be upon us, marking the 400th anniversary of the voyage of the Mayflower and the founding of Plymouth Colony. This is an exciting opportunity for GSMD to commemorate our Pilgrim ancestors and to share their inspirational story with the world! 
To do this we will need to spread awareness by attending local events around the state of Maryland. We will also be making a contribution along with many other State Societies to help decorate  the GSMD with a painting that the thousands that visit for the 2020 Celebration will be able to see. 
Some of the events that are currently in the works are a parade and we are working on trying to put together publicity events. Brochures, posters, promotional events, and registration fees will all be necessary to help pay for these events. At these happenings, members of our society will dress in Pilgrim Period Appropriate Attire. We hope to recruit more members in this process. 
Our 41st Congress in 2017 and the GBOA Meeting 2018 both gave Member Societies the opportunity to share ideas. Many of the State Member Societies have projects underway for 2020.
Dr. James Battles, our Deputy Governor General, has been instrumental in putting together a major project named Pilgrims meets the Arts. Historic artist, Pamela Patrick White, has been commissioned to paint the story of the first encounter of the Pilgrims and Native Americans entitled Welcome Englishman. The completed original painting is to be donated is to be donated to the General Society of Mayflower Descendants. The painting will be displayed in a suitable location chosen by the GSMD in time for the 2020 festivities. This was voted on by our Board in 2016 and the painting will be ready in the coming months. Your contribution will also help pay for this artwork.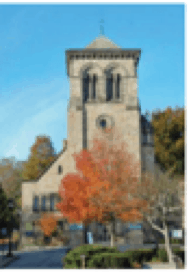 The Maryland Society made a pledge of $5,000.00 to the First Church for the Preservation and we are looking for members that would like to contribute to our pledge. The General Society of Mayflower Descendants (GSMD) was founded in 1897 and that same year the present structure of the church was built, and descendants have made regular pilgrimages to this spot. In fact, the state societies have helped furnish this structure through the years with Tiffany stained-glass windows, objects in the sanctuary, as well as many other contributions.
Today, that same Meetinghouse still stands at the top of Leyden Street, but it has now taken on an image of faded greatness. This is not because of neglect. The First Parish Church congregation has dwindled and, to save the building, they have agreed to donate it to GSMD upon the condition that funds be placed to permanently maintain it, and that they be allowed to continue scheduling their worship services. Along with the Meetinghouse, the Church will turn over their records, from modern times back to 1620, written by William Bradford, William Brewster, Robert Cushman, and many others. There are references and stories of our Mayflower ancestors going back to Leiden, information that must be curated and properly maintained permanently. The decision of the GSMD to create an endowment for this spiritual structure and its records will be one of our most important legacies. The First Parish Church congregation recently signed a Charitable Trust with GSMD that will place the deed into a partnership between our two organizations until we can raise $3,000,000. At that time, the church will transfer the deed, and we will become the new stewards, responsible for preserving and maintaining this memorial. Our deadline to raise $3,000,000 is September, 2020, but our responsibility to finance and care for the Meetinghouse will continue. The congregation chose our Society because they knew we would show it the same reverence. As our center of education, GSMD will bring the world to the Meetinghouse.
The first Meetinghouse was built in 1621, in the middle of a wilderness, the year after the Mayflower landed. Records of our ancestors were stored here and passed on from congregation to congregation through the years. This is the fifth spiritual structure built here, designed to honor and memorialize the Pilgrims. A more authentic historic place in America cannot be found! We, the State of Maryland, and the other 50-member societies pledged to donate to the Meetinghouse.
Our $5,000 pledge was put towards Preservation. If you choose to donate your funds will go towards the GSMD Meetinghouse endowment fund, that will use only a percentage of the funds to maintain and operate the Meetinghouse in coming years. Restoring the Meetinghouse and making it the center of our Pilgrim education mission is the best possible legacy the General Society could leave in 2020, the 400th anniversary of the Mayflower crossing. By committing to $5,000 the Maryland Society will be listed on a plaque in the e in the Meetinghouse. Donate today and be a part of making this happen.
Our Mission
"The Scholarship Committee serves as the connection between the Society of Mayflower Descendants in the State of Maryland and the applicants to and recipients of its college scholarship awards. The fundamental purpose of these awards is to support students in their academic pursuits and promote better knowledge and awareness about the story of the Pilgrims, and the preservation of that historical heritage."
Through this scholarship program, students will feel a stronger connection to their ancestral ties to the passengers of the Mayflower and the legacy that connects the generations.
Up to $1500 with more than one scholarship awarded, depending on availability of funding. The award monies must be used for tuition, fees, and/or textbooks. The Society's Scholarship award decisions are final.
Eligibility and Requirements
Must be a Member in good standing, Junior Member, or have direct lineage connection to a member of the Maryland Society. Applicants must be able to describe their lineage to at least one Mayflower Pilgrim (see to-do list).

Must have applied to be or is a full-time student. This must be documented.

Must attend a U.S.-based two- or four-year college or university undergraduate program, trade schools, or other institutions of undergraduate higher learning. Equivalent foreign institutions of higher education will be considered under special circumstances, which should be explained. Students in Graduate or Post-Graduate programs are not eligible
Scholarship Application Instructions List Academic Year: 2019-2020
To-Do-List – The Applicant Must:
Provide a flowchart that shows the candidate's lineage to at least one Mayflower Pilgrim.
Sign the application and complete all portions of the document, or explain why a portion is not pertinent.
Demonstrate intended or existing full-time student status at the eligible institution.
Submit unofficial copies of their SAT and/or ACT scores with the scholarship application, if available. Individuals who have been away from school for three years or more are not expected to have these documents. Explain your circumstances if these scores are not available.
Provide unofficial academic transcripts for the prior two academic years, unless the applicant has been away from school for more than three years.
Provide two letters of reference from non-relatives.
Agree to provide or pose for a photograph which may be used to publicize the Society's scholarship program or the specific award. A photo release form must be provided. That form must be signed by a parent/guardian if the applicant is younger than 18 years old.
Submit financial account information at the educational institution to which award check(s) are to be submitted. Scholarship funds must be used for tuition, fees, and/or books. Awards may be made directly to the scholarship recipient in special circumstances, which must be justified to the satisfaction of the State society.
Be available for an interview in the Baltimore area during May or September timeframes. This interview may be conducted in person or by teleconference.
The Society reserves the following rule for scholarship awards at $2000 each or higher, if offered: The applicant must submit unofficial transcripts at the end of each term/semester to be entitled to any remaining portion of the scholarship award. Higher value awards will be disbursed in two installments.

Applicants may re-compete for a new scholarship award, if eligible, and after submitting available unofficial transcripts that document a cumulative 3.0 GPA or better, on a scale of 4, and full-time study status. Existing scholarship recipients should send their second term transcript as soon as it is available, as a supplement to their application.

Scholarship winners are responsible for any possible taxes that derive from an award.
The deadline for receipt of applications is: 
a. March 29, 2019, for fall 2019 awards,
b. August 30, 2019, for spring 2020 awards.
Applicants and scholarship recipients will be notified by: 
c. June 1, 2019, for fall 2019 awards,
d. October 1, 2019, for spring 2020 awards.
Up to $1,500 with more than one scholarship awarded, depending on availability of funding. The award monies must be used for tuition, fees, and/or textbooks. The Society's Scholarship award decisions are final.
Additional information is available from the Scholarship Committee Chair by writing to scholarship@MarylandMayflower.org. Applications for the scholarship may also be mailed to the address at the top of that form.
The application forms and attachments of the scholarship recipient(s) and up to two runners-up may be held for three years by the scholarship committee chair. All other applicant packages will be destroyed.